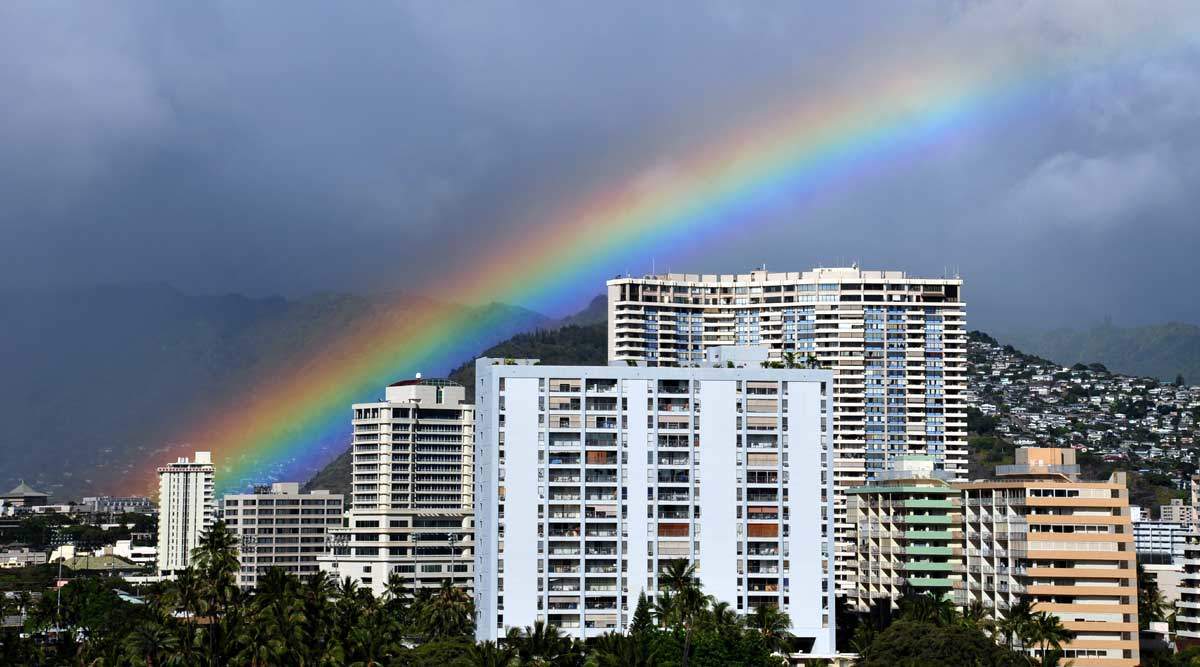 Hawaiian Climate's Effect on Homes and Buildings
Most everyone would probably agree that Hawaii is a very special place. And whether you're a home builder, a general contractor or a do-it-yourselfer, the things that make Hawaii special can also present unique challenges to homes and other buildings.
Sun, heat and humidity can take its toll on building materials, as well as the salty ocean air. Additionally, extreme weather, such as heavy rain, wind and especially hurricanes can weaken structures that aren't built to withstand this type of environment.
In addition to being severely weakened, some materials can begin to show cracks, splits, swelling or rotting after just a few short years of "normal" conditions.
For roofing and gutter systems in Hawaii, this makes your choice of materials extremely important. A well constructed roof is vital to protecting the entire structure from the elements, but a well designed gutter system is equally important for keeping the heavy rains from collecting where it can do damage.
Annual Rainfall Statistics for Honolulu, Hawaii
So, what are the best rain gutters for Hawaii homes?
When it comes to rain gutters in Hawaii, you have several different choices, such as aluminum, vinyl, zinc, steel and copper.
Aluminum is the most widely used material, especially on the mainland, due to it being cheap, lightweight and easy to install. Although it does resist rust, aluminum is not as strong and durable as other metals and may need to be replaced one or more times over the life of the home.
Vinyl is even cheaper and lighter than aluminum with very little protection from extreme elements. It is so weak, in fact, that installers cannot even lean ladders against it.
Steel is the most durable, however, in addition to being pricey, galvanized steel can begin to rust after just five to ten years and isn't practical for many situations.
This is why our favorite metal roofing and gutter choice for Hawaii is copper.
Copper is an extremely durable metal that not only looks beautiful but also has properties that make it the perfect choice for the Hawaiian tropical climate and sea air. Copper will never rust and there's no need to ever paint it, so the maintenance is low.
Over time, copper will naturally develop a beautiful green patina that looks very rustic. Although, if you prefer the copper shine, you can treat copper with a coating that prevents the natural oxidation process.
While it's true that copper gutter systems are a bit more expensive than other materials, this investment will pay for itself in time due to its intrinsic longevity. With proper maintenance, copper gutters can be expected to last for the life of the home. And, because of its durability, the chance of replacement or repairs are greatly reduced as a result of extreme weather.
Tips for Installing Copper Gutters in Hawaii
Because of Hawaii's heavy annual rainfall, it's also recommended that you take into consideration the necessary capacity of your new copper gutters. For example, the standard width of most residential gutters is five inches. However, for areas like Hawaii which receive more rain, a width of six or seven inches would redirect more water faster.
With wider gutters should come wider downspouts of four to five inches in diameter, as opposed to the typical 3 inch. More downspouts spaced closer together would also alleviate overflow.
It would also be more efficient to install your gutters using a steeper slope with as much as a half inch for every ten feet to move water faster, avoiding overflow. And because water is heavy, the use of copper straps, hangers and screws will ensure the installation's strength and sturdiness.
For more tips and information on Hawaii metal roofing and installing the best rain gutters for Hawaii homes, let us know.
Kobett Metals is one of the Pacific region's top distributors and manufacturers of copper gutters and custom fabricated architectural metals. We carry the largest in-stock inventory of copper and metal roofing supplies for Hawaii and the Pacific Coast, as well as Berger, Euracraft and EuroGutterUSA gutter systems.
From Hawaii, contact us for a free estimate. Our local freight company makes weekly shipments from California to the Port of Honolulu, Hawaii and can deliver your order directly to Oahu, Kauai, Maui, Molokai, Lanai and Hilo & Kona on the Big Island.